21 Day Broome to Darwin 4WD Campervan Package
Package Price - starting from AUD $4860 *(refer below)
Campervan Inclusions:
21 Day 4WD Campervan Hire (click on vehicle images below for more information incl specs)
Unlimited Kilometers, GST, Kitchen Kit, Linen, table and chairs, extra drivers fees, stamp duty & admin fee, prepaid gas bottle, 4WD outback Safety Kit, Broome Remote Fee & One Way Drop fee, Insurance & 4WD Easycover included nil Excess! Drive away with total piece of mind!!
Package Also Includes: National Park Entry, Campsite Accommodation & More ....

National Park Entry
The National Park Pass included in this package entitles you to unlimited entry to all the National Parks in the Kimberley for all people in the vehicle
El Questro Entry & Camping
Package includes Wilderness Park Entry and 2 nights unpowered campsite at El Questro Wilderness Park.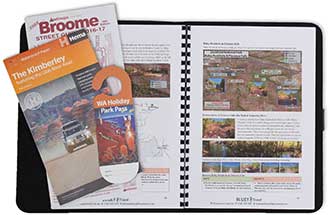 Exclusive Travel Guide
Comprehensive travel pack with detailed maps, information & recommendations so that you can plan your holiday and tweak each day based on your interests.
Itinerary & Travel Support
Customers who provide us with a specific itinerary will receive a personalised version of the travel guide.
24/7 support & assistance while traveling personal mobile contact number provided.

Comprehensive Travel Pack - **Received before you travel**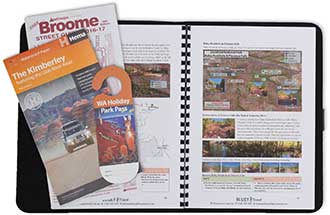 Comprehensive travel pack with detailed information and recommendations so that you can make the most of your holiday and tweak each day based on your interests. Please Note: Guide is personalised if customer provides a specific itinerary

Travel pack will be mailed to you (within Australia) well before travel so you have time to read it, ask us any questions and make plans. (Please note if you require pack to be mailed internationally you may incur additional cost to price quoted)

Pack includes campground and campsite recommendations with photos. Also detailed maps, walking notes & recommendations on where to get fuel and food.

Extensively road tested. No need to spend precious time at visitor centres.
I'm Interested in this Special
To receive price, terms & conditions and confirmation of availability
Can I book through a Travel Agent?
Yes - Just print this out and take it to an accredited travel agent and they can contact us and book it on your behalf