10 Day Perth to Exmouth Highlights
The 10 Day Perth to Exmouth package is for people who want the ultimate experience, exploring the spectacular WA Coral Coast and Ningaloo Reef. Experience two World Heritage listed treasures in one self-drive adventure. Experience the natural wonders of the largest fringing reef, oldest living fossils on the planet not to mention amazing crystal clear waters and white sand beaches.
Package Price:
A$2645 pp twin share

Travel Between 1 Jan, 2023 to 31st Dec, 2023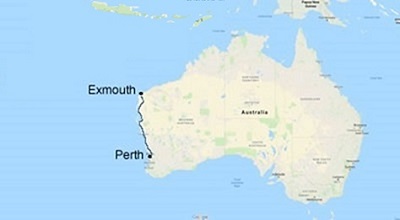 Package Includes:
9 nights accommodation
9 days Standard 2WD rental **with unlimited kilometers**
WA National Park entry passes
Our Comprehensive Travel pack (refer below).
Features:
Perth & Surrounds, Numbung National Park, Kalbarri National Park, Natures Window, Shark Bay, Monkey Mia, Exmouth, Coral Bay, Ningaloo Reef, Cape Range National Park
Holiday Summary
Day 1: Around Perth
Arrive in Perth and pick up your vehicle before settling into your accommodation. Depending on your interests and where you stay tonight (refer available options), spend time on the beach at Scarborough, stroll through Kings Park or indulge in a meal and coffee at Fremantle. If you have the time to spend another day in Perth consider the day visiting other great attractions including the Perth Mint or Museum of Western Australia. Alternatively consider a day trip to the island paradise that is Rottnest island just 19 km off the coast of Perth City.
Refer to the Travel Pack for highlights and recommendations
Day 2: Perth to Geraldton via Nambung National Park (Pinnacles) - 415km
Today has you beginning your west coast adventure. The initial 257km drive north takes you through a region known as the Turquoise Coast. Experience market gardens, fabulous farming scenery and extensive ocean views. Over 200,000 people visit the area annually visiting world class attractions such as the fascinating Pinnacles Desert. Spend some time walking around these statuesque limestone pillars rising out of the sand like ancient ruins. In the afternoon explore the attractions along the coast north of The Pinnacles including Lake Thetis home to some of the earliest organisms on Earth that produced the oxygen for subsequent life forms. Jurien Bay is the largest coastal town and offers wonderful beaches protected by the islands and reefs which lie just a few kilometres from the shoreline.
Refer to the Travel Pack for highlights and recommendations
Day 3: Geraldton to Kalbarri - 155km
Today has you leaving the Turquoise Coast and heading north to Kalbarri. Before leaving Geraldton make sure you visit the HMAS Sydney Memorial, free guided tours run every morning. Continuing north you will come across the amazing Pink Lake which is definitely worth a quick stop and some photos. This afternoon relax and explore the striking coast as you approach Kalbarri. The lookouts, beaches, headlands and walking tracks along this compact stretch of coast are remarkable. Choose from 10 available options depending on your interests (each have something unique to offer). A relaxing evening at Kalbarri township looking out over the Mighty Murchison River.
Refer to the Travel Pack for highlights and recommendations
Day 4: Around Kalbarri
Today you have time to explore the magnificent Kalbarri National Park. It is one of the great National Parks in Australia, becoming a vast carpet of wildflowers between August & October, with elaborate twists and turns of the Murchison River as it cuts its way to the sea. Spend the day exploring the spectacular lookouts and walks including visiting Z-Bend gorge, "The Loop" and the iconic "Natures Window". Don't miss the stunning new Skywalk at 'the Loop' where you are perched 100m above the gorge. By late afternoon return to the beach to watch the sunset over the water with the rich red cliffs behind you. A fantastic way to cap off the day.
Refer to the Travel Pack for highlights and recommendations
Day 5: Kalbarri to Shark Bay (Monkey Mia) - 398km
Departing Kalbarri, today has you driving to Shark Bay & Monkey Mia. The bottlenose dolphins are best seen tomorrow morning so today is all about exploring the attractions along the way. From Kalbarri National Park, drive the 350km to Denham exploring the majestic Shark Bay World Heritage Area visiting the Stromatolites (descendant to the oldest life form on earth) and world famous Shell Beach with its billions of tiny cockle shells (amazing). Views from Eagle Bluff or a tour of the fantastic Ocean Park Aquarium cap off a great day.
Refer to the Travel Pack for highlights and recommendations
Day 6: Shark Bay (Monkey Mia) to Coral Bay - 556km
Spend the morning at Monkey Mia, globally recognised as one of the best and most reliable places for dolphin interaction in the world. Feeding the dolphins at Monkey Mia is one of the great experiences, however please note not everyone gets to feed a dolphin and very strict controls apply. After your interaction with wild dolphins begin the long 550km drive to Coral Bay and the wonderful swimming holes and snorkeling sites of central Ningaloo Reef.
If you prefer to break up this long day driving, you have the option to visit Point Quobba "The Aquarium" (amazing snorkeling) and the spectacular Blowholes, spending the night in Carnarvon instead. For this option add an extra night to your overall package, stay in Carnarvon tonight and drive the remaining 238km to Coral Bay tomorrow. Alternatively you can spend an additional day in Monkey Mia and spend the day meeting more of Shark Bay's marine life on a wildlife cruise or take a 4WD tour of Francois Peron National Park.
Refer to the Travel Pack for highlights and recommendations
Day 7: Around Coral Bay
A full day exploring the pristine beaches and abundant coral at Coral Bay. In contrast to other locations the coral starts right at the water's edge and offers very easy access to swimmers and snorkelers of all ages. Self guide the reef or take a guided tour on a glass bottom boat or even a day trip to swim with Manta Rays (year round) or Whales Sharks (seasonal – please note shorter season than Exmouth). One of the great experiences along the WA coast is spending the time exploring around Coral Bay.
Refer to the Travel Pack for highlights and recommendations
Day 8: Coral Bay to Exmouth - 150km
A full day to relax and explore the Ningaloo Coast World Heritage Area between Coral Bay and Exmouth. Spend the morning walking out to the shark nursery north of Coral Bay or take a morning quad bike tour to Oyster Bridge or Five Fingers for sensational remote Ningaloo Reef snorkeling away from the crowds. After a memorable morning around Coral Bay take the relatively short drive up to Exmouth stopping at the stunning road side lookouts of Cape Range National Park. For the more adventurous consider the walk to the Shotgun Canyon Lookout – Stunning
Refer to the Travel Pack for highlights and recommendations
Day 9: Around Ningaloo Reef
A relaxing day catching up with more swimming and snorkeling in this pristine world class environment. Drift Snorkel at Turquoise Bay and Oyster Stacks, swim at stunning Sandy Bay before spending the afternoon on a Yardie Creek Boat Cruise or do the walk in Mandu Mandu Gorge. A great day having experienced all the highlights around the North West Cape and the Ningaloo Coast World Heritage Area. Alternatively spend the day swimming with Whale Sharks (seasonal). Finish the day on the Cape with an Indian Ocean sunset and humpback whale spotting at Vlamingh Head Lighthouse.
Refer to the Travel Pack for highlights and recommendations
Day 10: Depart Exmouth
A relaxing morning around Exmouth visiting town beach or having breakfast at the marina before driving out to Learmonth (Exmouth) Airport. Please note; Package price is based on vehicle being returned at the same time as picked up on Day 1.
Refer to the Travel Pack for highlights and recommendations
Package Includes:
Comprehensive Travel Pack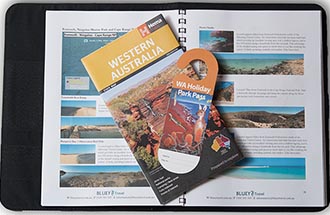 Package includes a comprehensive travel pack with detailed maps, photos including highlights, attractions, distances, timings and useful tips.

The pack includes your vouchers, permits and other useful information such as supplier details as well as availability of fuel and food.

Tailored to your itinerary with daily itinerary recommendations. Invaluable info you will use every day.

We mail this travel pack to you (within Australia) well before travel so you have time to read it and ask us any questions. (Please note if you require pack to be mailed internationally any additional cost to be added to package price quoted).
Accommodation Summary
Perth
One nights accommodation in a 4.5 Star + Perth CBD Hotel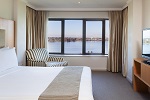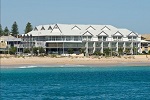 Geraldton
One nights accommodation in 4 Star Hotel in the heart of Geraldton. Alternatively you can choose to spend this night at Cervantes Hotel near the Pinnacles.
Kalbarri
Two nights accommodation in a deluxe roome at the Edge Resort in Kalbarri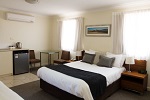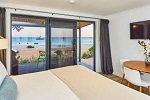 Monkey Mia
One nights accommodation in a beach view room at the Monkey Mia Dolphin Resort.
Coral Bay
Two nights in a Villa at Ningaloo Coral Bay BayView, or one night in Carnavon and one night in Coral Bay.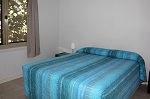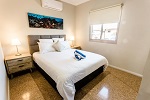 Exmouth
Two nights staying in a 1 Bedroom apartment at the 4.5 star Exmouth Escape Resort
Car Hire Summary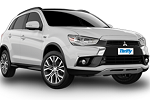 Included Compact SUV
9 Days 2WD Car Hire (Mitsubishi ASX or equivalent) including unlimited kilometres, reduced liability insurance cover and one way fees included.
Upgrade Option
Upgrade to larger 2WD, AWD or Large 4WD for an additional fee.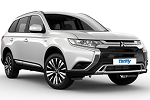 Package Summary
Package Description
10 Day Perth to Exmouth Package
Valid
1st Jan 2023 to 31st Dec 2023
Departs
Daily (Monday to Sunday)
Travellers Obligation
Traveller to arrange own flights to and from Perth Airport & Exmouth (Learmonth Airport)
Pricing
All pricing is in Australian Dollars (AUD)
Package Cost
A $2645 pp twin share** ( does not include any tours)
I would like to start in Exmouth and end in Perth!
This trip works just as well in reverse. If you would prefer to start in Exmouth and head south to Perth – just select that option below. The car and accommodation options remain the same – just in reverse. There is a small increase in price to collect the car in Exmouth and return to Perth.
I have some Questions or would like to tweak this package so it better suits me!
If you have any questions or would like to discuss any changes to this package, send us an email information@blueytravel.com or call us on 1300 305 505 (within Australia) or +61 1300 305 505 (from anywhere in the world). For example you may want to;
Ask us to extend your stay in any of the locations
Ask us to upgrade your vehicle type
Ask us to upgrade your accommodation or we can offer more budget friendly options
I'm Interested in this package!
To receive terms & conditions and confirmation of availability