7 Day "Gibb River Road" Package
For people that want to experience the highlights of the the Gibb River Rd and don't want to drive back to Broome from Kununurra.
Package Price: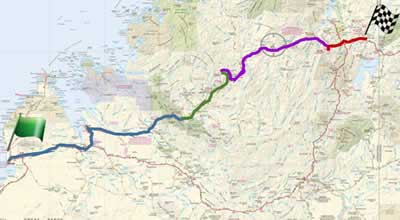 Package Includes:
6 nights accommodation
7 days Large 4WD rental

**with unlimited kilometers**

WA National Park entry pass.
El Questro Wilderness Pass.
Our Comprehensive Travel pack (refer below).
Features:
Broome, Cable Beach, Gibb River Road, Windjana Gorge, Tunnel Creek, Bell Gorge, Adcock Gorge, Manning Gorge, Mount Elizabeth, El Questro, Kununurra, Lake Argyle.
Holiday Summary
Day 1 Arrive in Broome
Arrive in Broome & spend the rest of the day unwinding and exploring the local highlights Broome has to offer. Marvel at the sweeping white beaches, rich red outcrops and blazing turquoise water of Broome's spectacular coastline including stunning Cable Beach.
Depending on your interests, spend the afternoon learning about Broome's rich pearling history or participate in some of the great activities including a sunset camel ride or watch a movie at the famous Outdoor picture theatre (officially the worlds oldest).
Refer to the Travel Pack for highlights and recommendations
Inclusions: Accommodation (Bali Hai or equivalent), Car Hire - Large 4WD
Day 2: Broome to Bell Gorge (Imintji)
Begin your Kimberley adventure by driving out toward Derby and joining the Gibb River Road. An adventurous day exploring the famous gorges of the West Kimberley. Explore at your own pace and marvel at the natural landforms such as Windjana Gorge (an ancient underwater reef that is now above ground) Tunnel Creek (tunnel with waist high water so bathers and torch required) and Bell Gorge (one of the most spectacular gorges in the Kimberley). You will cap off an adventurous day with a hot shower and three course dinner at Bell Gorge Wilderness Camp with its licenced bar and outdoor dining area.
Refer to the Travel Pack for highlights and recommendations
Inclusions: Accommodation (Bell Gorge Wilderness Lodge - Imintji), Dinner, Car Hire - Large 4WD
Day 3: Bell Gorge (Imintji) to Mount Elizabeth
Depart Imintji and head towards Mount Elizabeth along the Gibb River road at whatever time of the day suits. Your departure time will depend on what time you want to arrive at Mount Elizabeth and which of the stunning attractions you want to explore along the way . Choose to visit, relax and swim at some of the spectacular gorges through this section of the Kimberley. Whether its Galvans Gorge, Manning Gorge or Adcock Gorge. You'll be supplied with all the information you need to make the decision on the day. On arrival into Mount Elizabeth Station relax, unwind and experience true outback hospitality on a real life cattle station.
Refer to the Travel Pack for highlights and recommendations
Inclusions: Accommodation (Mount Elizabeth), Breakfast, Dinner, Car Hire - Large 4WD
Day 4: Mount Elizabeth to El Questro
Day 4 say goodbye to Mount Elizabeth Station and head down the Gibb River Road crossing the mighty Pentecost river (be careful) and turn into El Questro the world famous 1 million acres cattle station that has been made into a wilderness park. Opportunities abound to enjoy spectacular scenery, swim, bushwalk, fish for the mighty barramundi or take a cruise down Chamberlain Gorge.
Refer to the Travel Pack for highlights and recommendations
Inclusions: Accommodation (Bungalow - El Questro), park entry fee included, Car Hire - Large 4WD
Day 5: Around El Questro
Spend most of the day exploring the awesome attractions and things to do at El Questro Station. There are all sorts of station activities including flights, heli-fishing, gorge cruises, horseback and bushwalks. El Questro Gorge is the most spectacular walk in the park making its way through narrow and shear cliff faces, clear rock pools and tropical rainforest.
Refer to the Travel Pack for highlights and recommendations
Inclusions: Accommodation (Bungalow - El Questro), park entry fee included, Car Hire - Large 4WD)
Day 6: El Questro to Kununurra
Today has you departing El Questro and heading towards Kununurra at whatever time of the day suits. Sleep in or take the opportunity to explore more of El Questro, before visiting Parry's Lagoon Nature Reserve with its extraordinary birdlife and cooling off with a refreshing swim at nearby Grotto Swimming hole. Alternatively arrive into Kununurra early giving you the rest of the day to explore the attractions surrounding Kununurra.
Refer to the Travel Pack for highlights and recommendations
Inclusions: Accommodation (1 Bed Apartment - Lakeview Apartments - Kununurra), Large 4WD
Day 7: Depart Kununurra
A full day to relax and/or explore the stunning attractions around Kununurra. Depending on your interests choose between a number of world class attractions including Lake Argyle & the Ord River or alternatively choose a 2Hr scenic flight over, or guided tour into the World heritage Listed Bungle Bungles. Arguably Australia's most stunning geological formation (all tours are extra cost options – for costs refer to summary below).
Refer to the Travel Pack for highlights and recommendations
Inclusions: Large 4WD
Package Includes:

+ 

WA National Park Pass & El Questro Wilderness Park Pass
The passes provided, entitle you to unlimited entry to all the National Parks and Wildlife reserves in the Kimberley as well the cost of entry into El Questro.

Comprehensive Travel Pack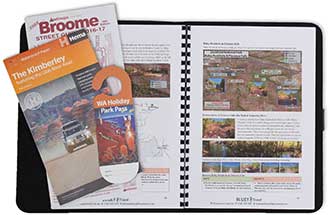 Package includes a comprehensive travel pack with detailed maps, photos including highlights, attractions, distances, timings and useful tips.

The pack includes your vouchers, permits and other useful information such as supplier details as well as availability of fuel and food.

Tailored to your itinerary with daily itinerary recommendations. Invaluable info you will use every day.

We mail this travel pack to you (within Australia) well before travel so you have time to read it and ask us any questions. (Please note if you require pack to be mailed internationally any additional cost to be added to package price quoted)
Accommodation Summary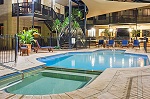 Broome
1 nights accommodation at Bali Hai or equivalent 4.5+ star hotel near cable beach.
Imintji
1 night Luxury ensuited Safari Tent at APT's Bell Gorge Camp with linen and meals provided.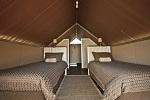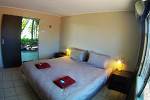 Mount Elizabeth
1 night Dinner Bed & Breakfast with true outback hospitality at Mount Elizabeth a real life cattle station
El Questro
2 nights Bungalow located near the river at the El Questro station township with ensuite and nearby bar & restaurant.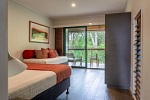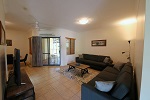 Kununurra
1 night in a spacious 1 bedroom self contained apartment at Lakeview Apartments
Car Hire Summary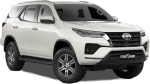 Large 4WD
7 days hire Large 4WD (Mitsubishi Triton or equivalent) with standard insurance unlimited kilometers and one way drop fee!
Premium 4WD
We can upgrade to a Premium 4WD for an additional cost (Toyota Prado, Mitsubishi Pajero or equivalent)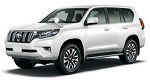 Package Extras: Option to prebook these popular tours (extra cost)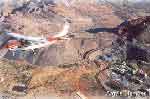 Argyle Diamond Mine Tour
NB: Due to the mine operation closing in 2021 the tour schedule may change. Day tour to the Argyle Diamond Mine ex Kununurra where you land for a ground tour of the worlds largest producer of diamonds. Reboard your plane back to Kununurra via Bungle Bungles. Cost: A$TBA (Child <12 not allowed).
Mitchell Falls
Fly over the magestic waterfalls and wilderness to the Mitchell Plateau. Then a 4km walk to the falls where you will enjoy a picnic lunch, returning to the airstrip by helicopter. Then reboard your aircraft to return. Cost: A$1549 C$1549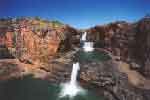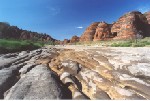 Bungles Flight or Day Tour
2.5hr flight ex Kununurra over the Bungles. Cost: A$425 C$405 (3-12yrs). Full day trip fly in land and be taken around in a 4WD to the best walks. Cost: A$810 C$690 (3-12yrs)
Lake Argyle Ord River Cruise
Journey to Lake Argyle for a stunning cruise to experience the best of this magnificent lake. Cost: Luncheon Cruise: A$125 C$70 Sunset: A$130 C$90 Ord River Cruise: A$205 C$130 Lake & Ord River Combination: A$330 C$225.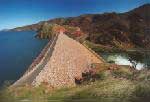 Package Summary
Package Description
7 Day Broome to Kununurra "Gibb River Rd" Package
Valid
Travel between 1 May 2024 to 30th September, 2024
Departs
Daily (Monday to Sunday)
Travellers Obligation
Traveller to organise his/her own flights to Broome & from Kununurra.
Pricing
All pricing is in Australian Dollars (AUD)
Package Cost
A $2945 pp twin share** ( does not include any tours)
I have some Questions or would like to tweak this package so it better suits me!
If you have any questions or would like to discuss any changes to this package, send us an email information@blueytravel.com or call us on 1300 305 505 (within Australia) or +61 1300 305 505 (from anywhere in the world). For example you may want to;
Modify the itinerary to add an extra night in Kununurra so that you do the day trip into the Bungle Bungles or to the Mitchell Falls.
Find out the price for more than just 2 adults travelling.
Ask us to book the package going from Kununurra to Broome.
Or any other questions or changes you may have. (Our goal is to give you the perfect outback experience!).
I would like to drop the car off in Darwin or return to Broome!
If you prefer to hire the car for extra days and drive onto Darwin or return back to Broome
contact us via email / phone or
click the $ quote / book online button below and add your comments to the form.
check out our Broome to Darwin or Kimberley packages that do just that
I'm Interested in this package!
To receive terms & conditions and confirmation of availability