Bungle Bungles (Purnululu) – Overview & Things to See and Do
Overview:
The Bungle Bungle Range, in Purnululu National Park, is one of the most spectacular natural attractions in Australia. From an aircraft or on the ground, the Bungle Bungles Range is an imposing sight. The beehive-like mounds which the Bungles are famous for are located in the south of the park. However if you explore further north you will discover a hidden world of gorges and crevices with ancient rock formations and palms clinging precariously to walls .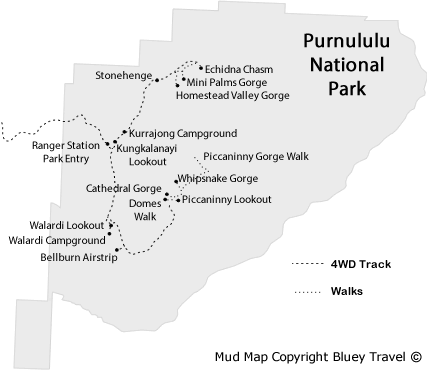 Unfortunately most people still fly over the Bungles which is a shame because to explore it on the ground and immerse yourself in the gorges and walks leave you with an unforgettable perspective. Tour Companies offer Fly /4WD tours that have you land in the Bungles.
If you plan to drive in, the turn off is 250km south of Kununurra and 109km north of Halls Creek. From there it is 55km to the Ranger Station and takes 1.5 – 2hrs one way. Improved in recent years, it's not as challenging as it once was. Sharp corners and undulating terrain however still make it a slow drive.
There are two public camping areas and both have toilets and water with fire pits but firewood is not provided. Be prepared to take your rubbish out with you as no disposal is allowed. A third accommodation area is set aside for licensed tour operators bringing fly/drive visitors to the park.
Things to See & Do:
Northern Section
Echidna Chasm
One of the highlights of the park, Echidna Chasm is a spectacular walk through a narrow gorge that seems to reveal yet another section every time you think you have found its end. It is a moderate 2.5km return walk with a couple of ladders over large boulders to climb over. Allow 1-2hrs or return walk
Mini Palms Gorge
4km return walk leading to a scenic amphitheatre. Easy at the start but becomes progressively more dificult. Allow approx 2hrs return
Homestead Valley Gorge
A 4.4km return walk that follows the escarpment and then cuts deep into the range at Homestead Valley. A large imposing valley missed by most people. Allow approx 1.5-2hrs return
Stonehenge
A 520m loop walk showcasing the traditional Aboriginal use of trees schrubs and grasses. there are 6 stop points along the with examples and signage. We have no idea why it is called stonehedge. Allow approx 30m return
Kungkalanayi Lookout
Located 2.5km north from the visitor centre Kungkalanayi lookout gives you panoramic 360 degree views of the spinifex covered ridges of the area and the western escarpment of the Bungle Bungles.
Southern Section
Piccaninny Gorge
Piccaninny Gorge is for the serious well prepared walker only. It is a 30km return walk that requires a minimum two days to complete. Early after the wet it may be necessary to swim part of this walk but later in the year water becomes scarce so make sure you carry plenty. For those with more time and the will to carry enough provisions there are many side gorges that can be explored either side of the Piccaninny Gorge. Anyone attempting an overnight or longer walks must register with the ranger beore setting out. The deeper you go the more spectacular it gets.
Whipsnake Gorge
A 10km return walk from Piccaninny Gorge Carpark to a Whipsnake Gorge. At the end of the walk is a massive amphitheatre that supports gums and ferns. Its a picturesque walk for 3km along Piccaninny Creek which gives you a taste of the longer Piccaninny Gorge Walk. Allow approximately 3hrs for the return walk. Please note despite the claims in the National Park brochure the pool is not permanent.
Cathedral Gorge
The most visited site in the park, a moderate 2km return walk from Piccaninny Gorge Carpark to a spectacular gorge and massive amphitheatre. The second most photographed attraction in the Bungles after the Domes. Allow approximately 1-2 hrs or return walk.
Domes walk trail
A short 1km circuit walk amongst the domes beginning at Piccaninny Gorge Carpark
Piccaninny Lookout
A 2.8km return walk to a natural lookout over Piccaninny Creek. Allow 45min- 1hr
Walardi Lookout
Located south from the visitor centre close to the Walardi Campground. The lookout offers views of the western escarpment of the Bungle Bungles.
Tours & Accommodation:
Scenic flights
Scenic flights by helicopter or fixed-wing aircraft are available within the park or from Halls Creek, Kununurra or Warmun (Turkey Creek). This is a great way to gain a perspective of the Bungle Bungle's massive size and spectacular scenery. Scenic air tours over the Bungles depart regularly all year round from Kununurra, and are also available from Halls Creek and Broome. Helicopters flights can be taken from the Beliburn Airstrip, within the Park, and also from Turkey Creek (Warmun) on the Great Northern Highway. Ground tours, or a combination of fly/drive tours are available from all major centres in the Kimberley.
Commercial Accommodation
There are ensuited safari tents set up by the tour companies that are available to be booked by travellers driving themselves in. (Pre-booking is essential). The two suppliers who offer accommodation including dinner bed and breakfast are both excellent places to stay and we couldn't recommend one over the other. The first is APT and they include Dinner Bed & Breakfast. The other supplier East Kimberley Tours offers the option with Dinner Bed & Breakfast or just the accommodation under a Self Catering arrangement.
Campgrounds
You have the choice to camp at Walardi or Kurrajong campsites and Walardi needs to be booked online. There is no internet access at Purnululu so prebooking is essential if you are planning to stay at Walardi. All Camping visitors must carry in all food and water. Most visitors' camp for several days so it is essential to be well equipped.
PEAK SEASON: Bookings can be made up to 180 days (aproximately six months) before arrival for stays from 1 May to 30 September.
OFF-PEAK: Booking cannot be made. Pay camping and park entry fees on arrival at the park. EFTPOS facilties are available at the visitor centre.
To Book your campsite click here
Caravan Park
The road into the Bungle Bungles is not suitable for caravans (even offroad caravans). Camper Trailers are fine. An alternative for people towing a caravan is the Bungle Bungle Caravan Park 1km in from the Victoria Highway. Ph: 08 9169 1995
Useful Travel Information:
Where is it?
The turn-off to the park is 250 km south of Kununurra or 109 km north of Halls Creek. The park access road is accessible only to four-wheel-drive vehicles.
Travelling time by Air:
2.5 hour return scenic flights over The Bungles are available from Kununurra.
Travelling time by 4WD:
4 hours from Kununurra and 3 hours from Halls Creek by Road one way.
Fuel
There is no Petrol or supplies available within the park. The nearest fuel and supplies are at Turkey Creek or Halls Creek.
Access
Please note: The park is open only between 1 April and 31 October (weather permitting).