Mataranka – Overview & Things to See and Do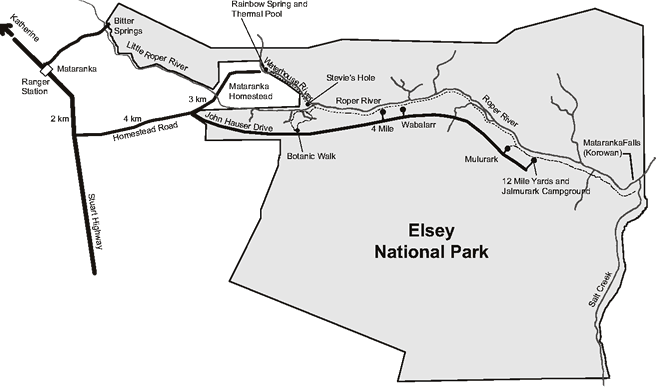 Mataranka : Mataranka is primarily a road side stop along the highway and a base for the popular Mataranka Thermal Pools and nearby Elsey National Park. The town of 100 people services tourists with motel and caravan park accommodation, supermarket, roadhouses, police station and pub.
Adjacent to the Mataranka reserve is the Mataranka Homestead, a private venture, which provides excellent camping facilities, caravan sites, and limited motel accommodation. Their is also a restaurant, bar and souvenir shop.
The main attraction in the region is the very popular Mataranka Thermal Pools a rainforest fringed pool that is spring fed. The crystal clear water rises from the spring at an amazing 24 Million Litres per day at 34C. A picturesque and relaxing spot to spend some time. An absolute Oasis if you've just been travelling the Stuart Highway North.Elsey National Park : The 13,000 hectare Elsey National Park, offers great scenery, a relaxed bush camping setting, fishing, swimming, walking or simply laying back and doing nothing at all.
The park includes Elsey Station, the 19th century home of Jeannie Gunn, who immortalised those pioneering days with her classic book, 'We of the Never Never'.
The historic Elsey Cemetery, 20 kilometres south of Mataranka on the original Stuart Highway, is believed to contain the remains of some of the characters featured in the book although they have not been identified.
The pools in the National Park are a popular destination which will continue to attract large numbers of visitors The same applies to the rest of the park. it is easy to reach, has good camping facilities and offers a great bush experience without the inconvenience of driving to a remote area.
One of the highlights in this National Park are the colourful tufa formations in sections of the Roper River. These delicate limestone structures have created natural dams of crystal clear water attractive to swimmers who should take care not to damage them.
A well equipped camping area has been established at the historic 12 Mile Yards site and provides hot showers, toilets, laundry troughs and a kiosk. Pontoons have been placed in an adjacent stretch of the river to provide easy access and a pleasant resting platform for swimmers. Two nearby special day-use areas have on-site barbecues, tables and seating, and easy access to walking trails.
Several walking tracks provide access to the park's rich wilderness attractions. Rangers usually conduct guided tours during the dry season designed to allow visitors to fully appreciate Elsey's diverse wildlife.