Kings Canyon – Overview & Things to See and Do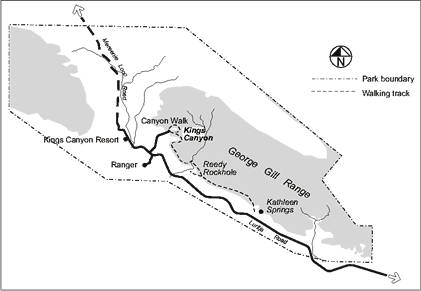 Overview:
Watarrka National Park, synonymous with Kings Canyon, contains the western end of the George Gill Range. This scenic landscape of rugged ranges, rockholes and moist gorges acts as a refuge for many plants and animals, making the Park an important conservation area and a major attraction of central Australia. Kings Canyon features ancient sandstone walls, sculptured by the elements, rising up 100m to a plateau of rocky domes.
Access
The Park is located about 330 km southwest of Alice Springs and can be accessed via three options:
Via Larapinta Drive, through the West MacDonnell National Park linking the Mereenie Loop Road, (4WD required) or
Via the Stuart Highway,  Lasseters Highway  and Luritja Road (all sealed) or
Via the Stuart Highway, Ernest Giles Road (gravel shortcut) and Luritja Road.
Care should be taken on all gravel roads after rain.
Things to See and Do
The Kings Creek Walk: A 1.3 km one way walk (requiring an hour to complete); meandering up Kings Creek to a lookout point. This walk is suitable for families and wheelchairs for the first 700 metres.
The Kings Canyon Walk: A 6 km return walk taking 3-4 hours. After an initial steep climb the walk offers spectacular views from the Canyon rim. Along the way are weathered, buttressed domes of the 'lost city' and the 'Garden of Eden'; a sheltered valley with permanent waterholes and lush vegetation. This walk is suitable for fit and experienced walkers and is one of the highlights of a trip to the Red Centre.
Kathleen Springs Walk: A 2.6 km, 1.5 hr return walk into a delightful spring-fed waterhole, suitable for families and accessible to wheelchairs.
The Giles Track: A 22 km overnight walk traversing the top of the range from Kathleen Springs to Kings Canyon with an entrance/exit point at Reedy Creek/Lilla. Contact Rangers (tel 08 8956 7488) for a map and more information before doing this walk.
All natural and cultural resources in the Park are protected. Please report incidents of graffiti. Gas barbecues are provided at Kings Canyon and Kathleen Springs. Open fires are not permitted in the Park. Protect water quality. Do not introduce sunscreen, soaps or food scraps to any waterway. Drive only on formed roads. Camping is only permitted in the two commercial camp grounds. Pets on leash are permitted in the Kings Canyon car park and along public roads only. Guns and traps are prohibited.
Walking: Prepare well when walking. Sturdy footwear, a hat, sunscreen, loose clothing and plenty of drinking water are recommended. Avoid walking alone and minimise physical activity during the hottest part of day (between 10am and 4pm), particularly in summer.
Please do not throw rocks over cliff edges as there may be people below.
Emergency Radios: Located along the Kings Canyon Walk and at the Canyon car park. Please use them to contact the Rangers in an Emergency.