Kakadu National Park – Meals, Supplies & Fuel



Supplies
There is a large supermarket in Jabiru that stocks a wide range of groceries as well as meat and fresh fruit and vegetables.
Aurora Kakadu Resort , Gagadju Lodge Cooinda and Wirnwirnmila Mary River Roadhouse each have a caravan park with a small general store offering basic supplies.
Meals
Jabiru has a cafe in the town square and a bakery in Gregory Place with great pies. Other options include the restaurants and cafes at the Aurora Croc Hotel or the Kakadu Lodge Caravan Park which are open to the public even if you arent staying there. At Ubirr the Border Store has a cafe and is open for lunch and dinner. Gagadju Lodge at Cooinda has a an open air restaurant with great meals and is open for breakfast lunch and dinner. There are no other kiosks within the National Park so what most people do when exploring is to take their own picnic lunch. Please note; The restaurant at Aurora Kakadu Resort has been closed for a number of years.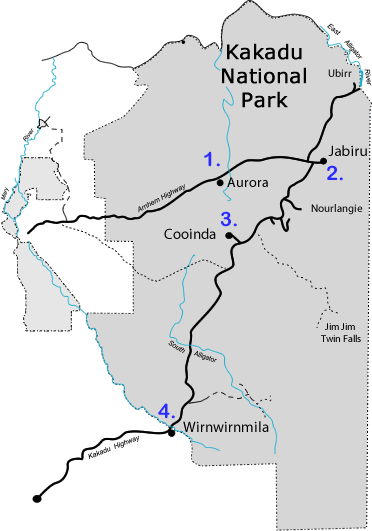 Service Stations
1. Aurora Kakadu Resort
Arnhem Highway, South Alligator, Kakadu NT 0886
Phone: (08) 8979 0166
Fuel Pumps as part of Resort
Sells: Unleaded & Diesel
2. BP Service Station Jabiru
1 Lakeside Dr, Jabiru NT 0886 Tel: (08) 8979 2001
Only Fuel in Jabiru includes small shop with ATM.
Sells: Unleaded & Diesel
3. Gagadju Lodge Cooinda
Kakadu Hwy, Kakadu NT 0822 Tel: (08) 8979 1500
Fuel Pumps as part of Resort with Small General Store
Sells: Unleaded & Diesel
4. Wirnwirnmila Mary River Roadhouse
Kakadu Hwy, Burrundie NT 0822 Tel: (08) 8975 4229
Service Station with small shop
Sells: Unleaded & Diesel