Douglas Daly – Overview & Things to See and Do
Overview:
Untouched and relatively unknown in the mainstream, this region is overlooked by tourists who concentrate on the well promoted nearby Kakadu & Litchfield National Parks. The region is also just out of reach for day trips out of Darwin so isn't overcrowded by locals either.
The region does not have the activities or variety of sites of the National Parks, but is an idyllic area with pockets that are equally spectacular.
The Daly River Region is best known as an excellent fishing and camping spot on the river. Fixed accommodation is spread out along both sides of the river, the pick of which requires you to cross the River. Extreme caution is required if there is fast flowing water over the road. (refer section on crossing rivers and creeks).The banks of the river near the crossing are a very popular camping spot and launch area for boats. A picturesque setting that is popular with people wanting to unwind.
Apart from a twenty-kilometre section, the road is sealed all the way from the Stuart Highway to the police station at the river. Down to the river and beyond the road is all dirt.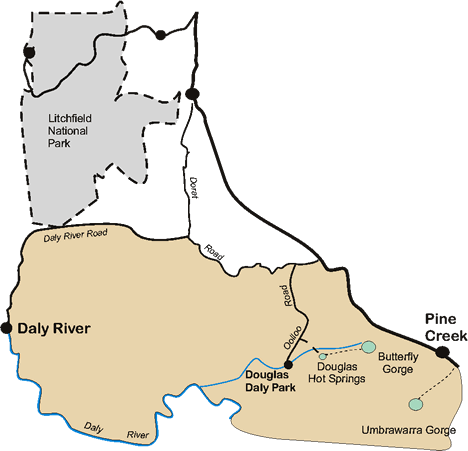 Things to See and Do
Daly River Nature Park: This 60 hectare Park is a favourite fishing and boating area noted for its barramundi. Swimming is not recommended as the river is home to many saltwater crocodiles.
Tjuwaliyn (Douglas) Hot Springs: the thermal pools of Douglas Hot Springs Nature Park attract visitors and wildlife alike. Flying foxes, bandicoots and other nocturnal animals as well as a variety of birdlife can be seen. The Hot Springs are often as hot as 60C and it is recommended that you swim in the cold water pools some 200 metres upstream.
Butterfly Gorge: Butterfly Gorge with its sheer rockfaces, surrounded by forest and spinifex grass, offers walks, swimming and beautiful views. The Gorge is named for the large numbers of butterflies which shelter in its cool, shady rock crevices. Approximately 130 km from Katherine along the Stuart Highway scenic route, the Park is easily reached from Katherine or Darwin. The final 17 km into the Park is recommended for four-wheel drive vehicles only, and is closed to all vehicles throughout the wet season.